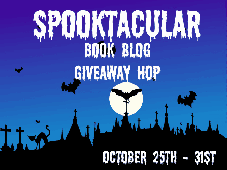 It's finally here! I'll be giving away two, yes that's
two
, books. In honor of Halloween, I'm going a little darker in my giveaway selections:
1. Mockingjay by Suzanne Collins
Synopsis
:
Against all odds, Katniss Everdeen has survived the Hunger Games twice. But now that she's made it out of the bloody arena alive, she's still not safe. The Capitol is angry. The Capitol wants revenge. Who do they think should pay for the unrest? Katniss. And what's worse, President Snow has made it clear that no one else is safe either. Not Katniss's family, not her friends, not the people of District 12.
2. The Dark Divine by Bree Despain
Synopsis:
Grace Divine, daughter of the local pastor, always knew something terrible happened the night Daniel Kalbi disappeared—the night she found her brother Jude collapsed on the porch, covered in blood. But she has no idea what a truly monstrous secret that night really held. And when Daniel returns three years later, Grace can no longer deny her attraction to him, despite promising Jude she'll stay away.
As Grace gets closer to Daniel, her actions stir the ancient evil Daniel unleashed that horrific night. Grace must discover the truth behind Jude and Daniel's dark secret . . . and the cure that can save the ones she loves. But she may have to lay down the ultimate sacrifice to do it—her soul.
How To Enter:
You can enter up to three times. Here's how:
1. You have to leave a message on my blog with contact info so I can contact you if you win.
2. *Extra Entry* Spread the word-- link, blog, tweet, etc. and leave a direct link (be sure to mention this in your comment)
3. *Extra Entry* Become a follower of my blog (or if you already are one, make sure to mention it in your comment)
That's it. Easy.
And the best thing about this? It's a
blog hop.
So you'll be linked to over eighty other blogs giving away books as part of the
Spooktacular
. It's sort of like Trick or Treating for books!
The giveaway ends at 11:59 p.m. (Eastern time) on October 31st and I'll be posting the winners the following week. Make sure to check back.
GOOD LUCK!!!